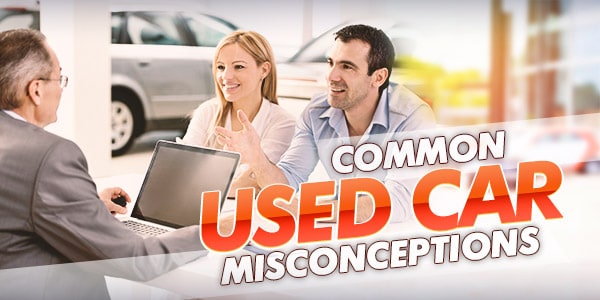 Here are some of the most common misconceptions about used vehicles and why they're not true - so you can put your mind at ease when shopping for a used car
1. New cars are in better condition than used cars.
This one is totally untrue. For one thing, a used car can still be in fantastic condition, and one that's just a couple years old will have the most of the same features as a brand new model. If the previous owner took care of it, you'll get plenty of miles out of it - for a much lower price.
3. There's no difference between CPO cars and used cars-it's just a scam.
CPO and used cars are like rectangles and squares. All CPO cars are used, but not all used cars are CPO. CPO cars must have a certain mileage and model year and must pass a rigorous inspection. Non-certified used cars don' have to meet this rigorous criterion.
2. New cars have more features than used cars.
One of the great things about buying used is that you have more options because more vehicles are in your price range. You could get a high-end used car with great performance and loaded with features, all for the same price of a new but less advanced car.
4. A new car is a better investment.
New cars have a period of massive depreciation in their first few years. Buying used means that you skip this fast depreciation period and get the car when it's depreciating much more slowly. This means that if you eventually sell it, the value will be closer to the original price you paid for it used.
5. You don't get warranties with used cars like you do with new cars.
You can! New cars do often come with factory warranties, it's true. But when you buy used, you're saving a whole lot of money which often balances out the lack of warranties.
Then there's the fact if you buy a certified pre-owned vehicle, you'll get access to a CPO program that includes special warranties just for certified buyers.
For help navigating the confusing world of used vehicles, simply stop by Rudig Jensen Ford Chrysler Dodge Jeep® Ram.