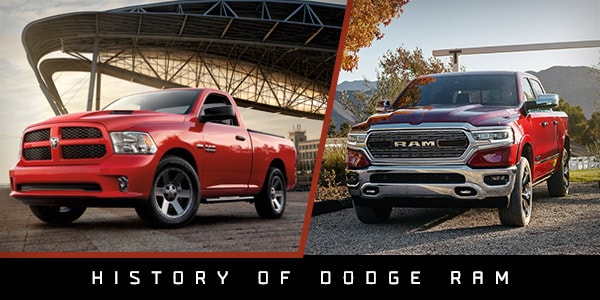 For nearly four decades, the dangerously dynamic duo of Dodge RAM trucks has been churning out some of America's most beloved and hard-working trucks. Here are just some of RAM's historical highlights:
The First Generation
The first Dodge RAM pick-up truck hit the streets in 1981. It was originally designed as a new light truck for Dodge, but as we know today, it evolved into so much more than that. The all-new RAM utilized design cues from the Dodge D-Series trucks, originally released by Dodge in 1972. Inside, truck enthusiasts of the 80s found a brand new bench design, instrument cluster, and gauge package. The first generation of Dodge RAM got a little boost in 1989 with the introduction of the 5.9-liter V8 engine and would continue to see improvements to performance in subsequent updates in 1991, 1992, and 1993.
The Second Generation
Round two of the Dodge RAM union saw equal success to its predecessor. The all-new second-gen Dodge RAM, set loose in 1994, saw a huge redesign in exterior appearance and powertrain and was an instant success upon release. Throughout the 90s, Dodge RAM pick-ups were America's top-selling trucks.
The Third Generation
Development of the third generation of Dodge RAM trucks began in 1996 and went public in 2001 at the Chicago Auto Show. The first sales of gen-three Dodge RAM trucks took place in 2002. The overhauled pick-ups included the introduction of the "Mega Cab" design, integrated navigation, and a hefty Cummins 6.7-liter diesel engine option.
The Fourth Generation
The most recent iteration of the Dodge RAM truck had many truck enthusiasts holding their breath. In October of 2009, Dodge and RAM announced their amicable divorce. Dodge would be focusing on its car development while RAM would concentrate its full power on producing truck. The results were an astounding success. RAM continued to produce a long list of "class-exclusive" features for their reliable trucks and Dodge saw renewed success in their smaller car endeavors.
Celebrate the extensive history of the Dodge RAM truck by taking one for a test drive at Rudig Jensen Ford Chrysler Dodge Jeep® Ram.