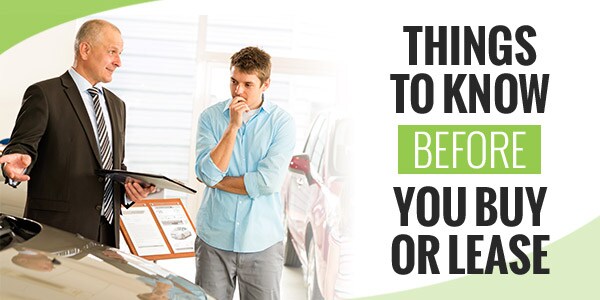 All drivers encounter a point in their lives where it's time to get a new car. However, many people choose to lease a vehicle instead of buying one. Discover which option would suit your preferences and needs best. 
Buy 
Pros
There are no penalties if you fail to maintain the vehicle. A purchased car will also last a long time if you properly maintain it, which will allow you to save money in the long run, once you pay off the auto loan.
Cons
A new car loses value quickly. In fact, it starts depreciating the second you drive it off the lot, experiencing the majority of depreciation within the first three years you own the vehicle. This can spell trouble for drivers who like to turn their vehicle back into the dealership later to put the cost towards their next car. 
Lease
Pros
If you're the type of driver who likes to have the latest vehicle every few years, leasing can help by streamlining the process of turning the car back into the dealership. It's also financially a great option for the same reason; when drivers lease a vehicle, they have to cover only the cost of depreciation, not the full cost of the car.
Cons
Drivers have to return the vehicle at the end of the lease term. You'll also have to pay fees if the car has sustained any damage, been improperly maintained, or has been driven over the mileage restriction.
In conclusion, if you prefer the latest technology and contemporary style trends, go with a vehicle lease. If you want the best bang for your buck and don't mind making the long-term commitment of having a monthly car payment for an extended period, then opting to buy a vehicle will prove the most satisfying route.
If you have any questions about leasing or financing your next vehicle, contact us at Rudig Jensen Ford.